In the centre of all events
The building of the Książęcy Arcade located at the junction of Księcia Ludwika I and Łukasiewicza streets is in the very centre of Lublin. It is within a 5-minute walk from the nearby PKS bus station and surrounding big housing estates. There are numerous public transport lines along the streets surrounding the investment area. The Northern Ring is only 400 metres away ensuring convenient access by car.
Strict city centre
Excellent public transport
Vicinity of big housing estates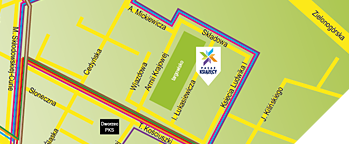 Only project of this kind in Lubin
The concept of the Arcade is a modern and proved formula of a Convenience Shopping Centre, which reflects current trends in the purchasing habits of Poles. In this intimate building, there are only 20 tenants with their offers tailored to fit precisely to the profile and expectations of inhabitants of Lublin. The Książęcy Arcade will become a perfect place for every day, convenient and quick shopping.
100 parking places distinguish this place from other locations in Lublin. Tenants will benefit from regular visits and a constant influx of new customers from various parts of the city.
A proved commercial formula
Tailored to fit local needs
Car park for 100 cars
Complete range of location
Arriving at the Książęcy Arcade by car from any part of Lublin takes not more than 10 minutes. This optimal location ensures access to over 75,000 city inhabitants, and together with surrounding villages which are in the range zone of the Arcade there are more than 105,000 potential customers.
The location in the near vicinity of a popular market place will make the Książęcy Arcade a natural place for regular and frequent customer visits.
Tenants will also benefit from the presence of a chain food store within the Arcade which will attract inhabitants of the surrounding housing estates for every day shopping. Over 22,000 inhabitants live within only 1,200 metres.
Over 105,000 customers within reach
Vicinity of a popular market place
Chain food store as an attracting magnet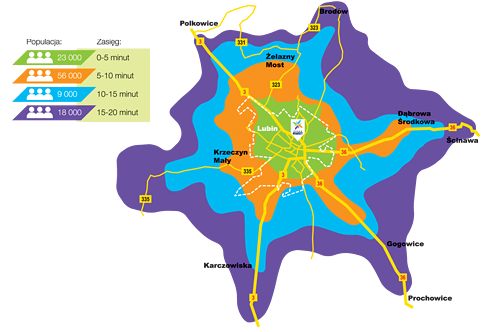 Click here for a bigger map
Functional adaptation
Historic buildings were adapted in order to provide the best functionality of commercial surface and convenience for Arcade's customers. Common areas and communication pathways are reduced to a minimum to lower overhead costs. Shop doors are outside the building, thanks to which each shop can use the selling potential of its own shop window.
Maximisation of effective area
Use of shop window potential
Optimisation of overhead costs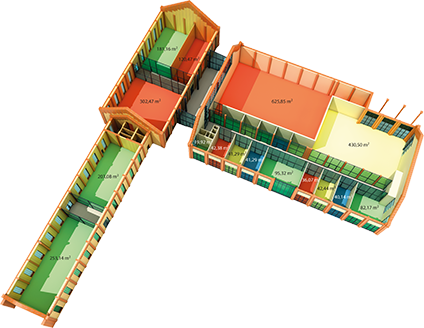 Click here for details and availability
Investment in numbers
12,000 sq.m total area of the centre
3,000 sq.m commercial area
20 stores (goods and services)
625 sq.m food store
100 parking places