Strategic localisation
The Arcade is located right next to the main street leading to the centre of Wałbrzych. The location at Długa Street provides direct access to the traffic axis of the Piaskowa Góra housing estate. Many public transport buses arrive at the Arcade from the city centre.
Right next to the main street
Access to the traffic axis of the housing estate
Convenient access by public transport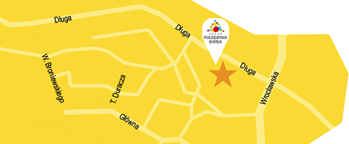 Click here for land use plan
Everything fast and convenient
A precisely planned variety of tenants will help to ideally adjust the offer to the needs of local citizens. With this approach, the Piaskowa Góra Arcade will become a place of choice for customers' daily shopping.
Arcade's primary offer is a discount food store, a pharmacy and a chemist supermarket. It is supplemented with local shops of clothes, shoes and electrical appliances, a restaurant and a café.
A spacious car park for 150 cars will increase accessibility for the tenants and for those customers who do not live in the closest vicinity.
A place of customer's first choice
Complex offer
Car park for 150 cars
Customer traffic guaranteed
The discount food store Biedronka located in the Arcade will ensure a high frequency of customer visits and regular traffic. More than 35,000 live within a 5 min drive.
Direct vicinity of the DIY shopping centre OBI will ensure customer visits from the entire zone covering over 200,000 inhabitants of Wałbrzych and its surroundings.
Discount food store as an attracting magnet
Direct vicinity of OBI super store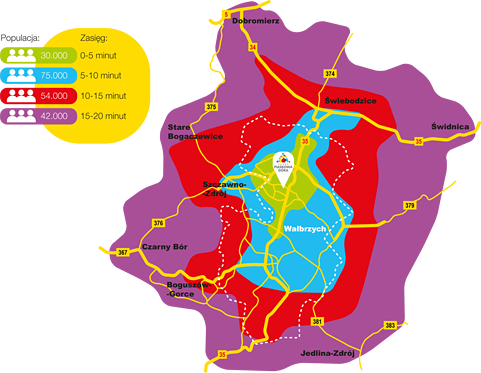 Click here for a bigger map
Perfect arrangement
Modern arrangement of the Arcade will enable easy access to all stores from the outside of the building. Thanks to this, shop windows can be fully used as an advertising area for tenants. Minimisation of common spaces means lower overhead costs.
Access to stores from the outside
Shop windows as advertising areas
Low overhead costs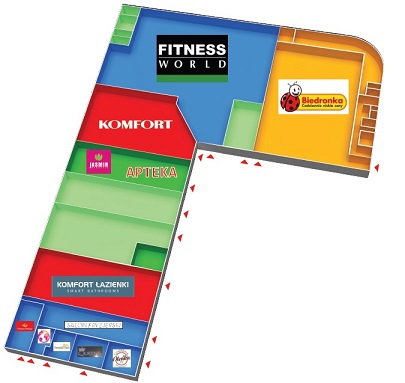 Click here for a bigger map
Investment in numbers
15,000 sq.m total area of the centre
4,031 sq.m commercial area
17 stores (goods and services)
1,100 sq.m discount food store Biedronka
150 parking places
Contact